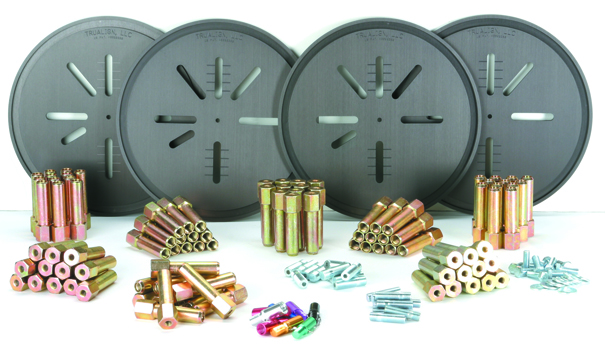 Great Features!
 Aligns all wheels
 Eliminates head-mounting problems
 Works with all current alignment machines
 Eliminates damage to expensive wheels
 Simple and intuitive
 Never turn away an alignment again
Much Much More…
Order from Us at
800-881-7335 or Buy On 
---
 Tru Align Is…
Tru Align, a patented system invented by a tire-alignment mechanic and tire store-owner, turns difficult wheel alignments in a simple, intuitive operation.  Now you can align today's large, colored, lipless and clad wheels with no difficulty. And, with little chance of damaging expensive wheels or alignment equipment.
The Tru Align system consists of four precision plates (6061 T6 aluminum) and twelve steel adapters in eight different sizes that temporarily replace two or three  lug nuts on each wheel. The 155-piece kit allows technicians to perform accurate alignments on virtually any vehicle on the road in North America, using their current alignment machines and tools.
 Pays for Itself
Test trials prove that tire customers choose to pay $40.00 to $60.00 more for their alignment to insure that their wheels are not scratched. The average Tru Align equipped shop that implements the "choice program" will pay for their kit in three months and increase their overall alignment profits 20-30%.